Over the past year, our nation has seen an escalation of violence and xenophobic attacks perpetuated against Asian American and Pacific Islander (AAPI) communities, particularly amongst the elderly. We wholly condemn these violent attacks, and encourage others in our community to do the same so that we can increase public awareness of these injustices.
To our AAPI community: we see you, we hear you, and we stand in solidarity with you. YNPN Austin remains committed to advancing equity, inclusion and belonging within our organization, the nonprofit sector, and Austin community. 
Below are resources for those who have been impacted by these events or who want to learn more about being an advocate: 
Mental Health Resources for API Communities
YWCA Greater Austin

is providing no-cost counselling services for the Asian/Pacific Islander community in Austin. If you identify as Asian/Asian American Pacific Islander and would like to get connected to mental health resources, please call 512-326-1222. Individual, family, and couples therapy available. Interpretation is available.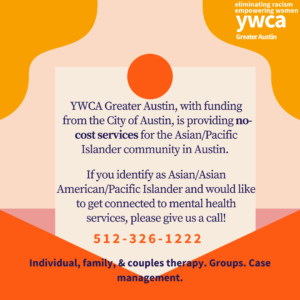 Report Hate Crimes
Other Resources and Initiatives for API and Allies
Hollaback! Free Bystander Intervention Training

: In response to the rise in Anti-Asian/American and xenophobic harassment, we at Hollaback! partnered with Asian Americans Advancing Justice | AAJC to adapt our free bystander intervention training as well as offering a de-escalation training to meet this moment.

March 15th at 6:00pm ET/5:00pm CT/ 4:00pm MT/ 3:00pm PT/1:00pm HST. Register Here