YNPN Austin Board & Council Structure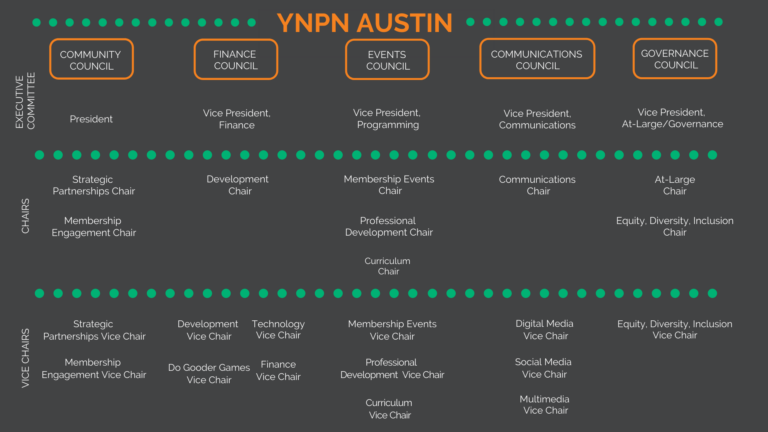 President
A Minnesotan native, Alyssa has 10 years experience volunteering and working in partnership with education nonprofits and school districts and has spent the last three years at Breakthrough Central Texas as a Program Coordinator advising first-generation college aspirants. Alyssa holds an undergraduate degree in Political Science from Loyola University Chicago and a Masters in Curriculum and Instruction from Texas A&M University.

In her free time, Alyssa enjoys taking Spanish lessons, spending time with her dogs: Miley Cyrus and Taylor Swift and crafting. She is excited to take a leadership role at YNPN Austin learning and use her skills of event planning to create dynamic programming for members.

Vice President, Governance
Before rooting herself in Austin, Lucy graduated with her Master's degree from The Bush School of Government & Public Service with a track in Nonprofit Management.
Lucy currently serves as the Program Manager at Austin Asian Community Health Initiative. She manages the Community Health Navigation program, which provides free health care and resource navigation for Asian and immigrant communities. She has been on the YNPN Austin board since 2017. She is the current President for Truc Viet and is a member of the Austin Global Shapers. She is a graduate of Leadership Austin Emerge Class of 2019.
A few things that bring Lucy joy and fulfillment are working with the API community, hanging out with her cat (and friends too), and planning her next big adventure.
Vice President, Programming
Sydney works at the RGK Center for Philanthropy and Community Service and is passionate about serving the Austin nonprofit community. She earned her undergraduate degree in Print Journalism from the University of North Texas and spent a year serving as an AmeriCorps VISTA with a civic education nonprofit in Austin before starting graduate school at the LBJ School of Public Affairs.
Raised just down I-35 in San Antonio (Helotes, more specifically), she was born in Kentucky and still loves to take trips back to the Bluegrass State to visit family. In her spare time, Sydney enjoys experiencing all of the food, activities, and outdoor fun Austin has to offer-- especially anywhere where she can meet some new dog friends. Sydney is excited to serve on the YNPN Austin board as membership events chair to bring engaging networking and learning opportunities to our members.

Yajaira
Saldivar-Solis (she/her)
Vice President, Finance
Yajaira earned her bachelor's degree in English from Texas A&M University, where she discovered fundraising via grant writing. Yajaira began her nonprofit career as a Grants Coordinator at Caritas of Austin. Currently, she serves as the Grants and Financial Compliance Specialist at LifeWorks. In addition to YNPN Austin, Yajaira is an active member of Austin Tan Cerca de la Frontera's (Austin So Close to the Border) Fundraising Committee.

When she's not daydreaming about ending homelessness, Yajaira enjoys boxing, keeping up with her favorite comics, and watching football. Yajaira is excited to contribute to YNPN Austin's important work in our community!

Vice President, Communications
Nigel is the Corporate Relations Manager at the Central Texas Food Bank where he focuses on helping companies of all sizes achieve their CSR goals. For the past ten years, Nigel has focused his career around helping companies achieve their marketing goals through various avenues including sponsorships, activations, donations, and volunteering. Prior to working at the CTFB, Nigel managed sponsorships for Circuit of The Americas.
Born and raised in California where he graduated from UC Santa Barbara with a degree in English and minors in Sports Management and Applied Psychology. In his free time, he loves exploring the scenic trails Central Texas has to offer with his partner & dog or globetrotting around the world. If he isn't on a whirlwind adventure, you can catch him curling up and getting lost in a book.

Membership Engagement Chair
Allison has been in the Austin area since she was in high school. She has a management degree from St. Edward's University where she spent most of her time getting involved within the campus and Austin community. Her day job is technical writing and project assisting. She is a member of the Young Women's Alliance where she has been in chair roles the past couple of years. This includes being a volunteer chair connecting the organization to other nonprofits in the area. She is also a board member for Headstrong Girls' Boxing, a new nonprofit providing free after school boxing classes for girls. Her hobbies include volunteering, going to events, and engaging in her community.

Strategic Partnership Chair
Dominique is a native of Monroe, Louisiana and has a passion for nonprofits and helping those experiencing homelessness and poverty. She found her passion for nonprofit organizations while interning at the Family Justice Center of Ouachita Parish, an organization that provides housing, food, childcare, job search help, counseling, medical, legal, and volunteer services to survivors of sexual assault, domestic violence, and stalking. She worked as a legal assistant, legislative assistant, and office manager before earning her undergraduate degree in Political Science from the University of Louisiana at Monroe and moving to Austin to pursue graduate school and further her career.
Dominique currently works as an Administrative Assistant for the Texas Department of State Health Services where she is able to promote the welfare of communities through focusing on public health. In her free time, she loves to paint, cook, go bike riding, and find new R&B artists to listen to. Being so far from home, she enjoys exploring Austin and all its different foods and sights. She hopes to find permanence in living in the city and continue to grow here.

Digital Media Chair
Born and raised in Austin, Texas, Grant E. Loveless, has dedicated himself to understanding the art of storytelling, community building and youth empowerment; assisting youth-led or focused organizations to turn their stories into action. Loveless is an AfroQueer award-winning student, social entrepreneur and community strategist in Central Texas. They are currently a Board Member and the Social Media Chair for the Young Nonprofit Professional Network of Austin.
Currently, as a spoken-word poet and well-recognized public speaker, they focus on creating dialogues centering: social and economic equity, cultural preservation and representation, youth empowerment and success as well as creative activism + storytelling. These dialogues are seen through their commitment to excellence within local and national business and non-profit organization partnerships.

EDI Chair
A nonprofit fundraiser and communicator, Jené has spent the last 10 years working in the nonprofit sector to create greater equity for BIPOC communities in her native Central Texas. Currently, she is a Marketing and Communications Manager at United Way for Greater Austin. Jené is a proud Texas Longhorn and holds a Bachelor's degree in Government from the University of Texas at Austin and a Master's degree in Mass Communication with a focus on strategic communication from Texas State University.
Jené is passionate about Orangetheory Fitness, drinking margaritas with friends, and Beyoncé. She currently serves on the strategic planning committee for AFP Austin and is looking forward to using her experience in change management to help lead YNPN's EDI efforts.

Programming Chair
After earning a Humanitarian Engineering degree from Purdue University, Madeline left the Midwest to move to Austin with her partner and their pup. Since August 2020, she's been at the Central Texas Food Bank and has had the opportunity to work in the Operations and Programs departments. Currently, she works as a Partner Services Specialist and oversees the reporting cycle for partner agencies and distribution partners as well as creates and documents processes to make the Food Bank run like a well-oiled machine!
In her spare time, she enjoys trying all the vegetarian foods and green spaces that Austin has to offer! Madeline is excited to work on the YNPN Austin board and create lasting relationships with others working in the Austin community.

Conference Chair
Maya has over 10 years of nonprofit experience. She currently works as a Senior Coordinator with the Alamo Community Colleges District where she manages and supervises a Helpline Advocacy Center Call Center she launched in March 2020 as well as supervises social work student interns. Maya is passionate about removing barriers for students so they are able to accomplish their academic goals, and is passionate about working with agencies to create more EDI hiring and training practices. Maya has a Master of Science in Social Work from the University of Texas at Austin and is a Licensed Master Social Worker.
Maya enjoys hiking, traveling, gardening, and baking with her partner, as well as spending time with her cat, Khaleesi. Maya is excited about her new role as Program Chair to create a YNPN conference!

Finance Vice Chair
Esmé is, at her core, a proud Midwesterner. She grew up in Rochester, MN and attended college at the University of Iowa where she majored in Gender Studies. She relocated to Austin at the beginning of 2021 to begin her development career at Girls Empowerment Network. She is currently wrapping up a service year with AmeriCorps VISTA and looks forward to transitioning into her next nonprofit role. She is passionate about harm reduction, gender equity, and community-centric fundraising. In her free-time, Esmé enjoys reading (gotta hit that Goodreads 2022 reading goal), traveling, and spending quality time with her kitties.

Technology Vice Chair
Laurie Miller works for Blackbaud as a Manager in Professional Services. Laurie's work is surrounded by assisting non-profits in their implementation and ongoing success with Blackbaud software. Laurie was born and raised in Austin, Texas, and has worked for and volunteered for many local non-profits. She holds a Bachelor of Science degree within Mathematics from Marquette University. In her free time, she loves exploring the outdoors with her husband, Charles, and two daughters, Lillian and Olivia.
Community Vice Chair
Matrex Kilgore is an award-winning international performer, director, and facilitator based in Austin, Texas. He graduated from The University of Texas at Austin, Department of Theatre and Dance, and has trained and collaborated nationally and internationally with award-winning directors, playwrights and actors. Matrex currently serves as Program Administrator for Arts Education, Theatre, and Dance at The Texas Commission on the Arts. He currently serves on the national board of directors for the National Afterschool Association and the Arts Education Task Force for the Texas Cultural Trust.
He was recently honored as a "Top 30 Under 30: Next Generation of Afterschool Leaders" Award from the National Afterschool Association for his commitment to program design, professional development, and efforts in Equity, Diversity, and Inclusion that influence the national field of afterschool programming. He partners with the Anti-Defamation League to provide anti-oppression training. He has taught theatre for social change to elementary school students to older adults living in senior living facilities. Matrex believes in the power of theatre to create opportunities for people to acknowledge their power and explore ways to make a difference in the world. Matrex is also the co-founder of the Center for Imagining and Performing Justice. We believe in using the tools of art and dialogue to bring both heads and hearts into the learning space. We root ourselves and our participants in imagining justice to move towards liberation for all, focusing on the most oppressed in our communities and society.
Community Vice Chair
Tracy
Johnson is an experienced education policy professional dedicated to improving student college and career outcomes. With her work at the Texas Education Agency, she primarily focuses on college readiness standards, K-12/IHE/workforce partnerships, CCMR strategy, data integration systems, and access to high-quality instructional materials and college/career advising. Prior to joining the agency, she was a college and career advisor with various Upward Bound programs in Texas. She is also a graduate student at the University of Texas' LBJ School of Public Affairs, focusing on nonprofit studies. She is thrilled to join the board as the Vice-Chair of Strategic Partnerships at YNPN to improve nonprofit professional development in Austin and strengthen the organization's local, regional, and statewide relationships.
Tracy
and her husband live in Austin with their beloved pets (Stanley - a coonhound lab rescue, Sophie - a sassy little maltipoo mix, and Sammy - a very fat siamese cat). In her spare time,
Tracy
enjoys all the culinary experiences offered in the city, practices yoga, hikes or swims in the beautiful hill country surroundings, and - when not studying or working - binge-watches her favorite TV shows.
Programming Vice Chair
Rondel
currently serves as the Community Engagement Manager for Unite Us for the Capital and Central Regions of Texas. She has spent her entire professional career working in the nonprofit sector with over 10 years leadership experience, volunteering, and working in partnership other nonprofits and school districts, until recently moving into the for-profit sector and is excited to use her experience to help further the development of young nonprofit professionals in our community.
Rondel has a Bachelor of Science from the University of Central Oklahoma She is a native of Oklahoma where she began her nonprofit work by serving on the board of United Way of Norman and serving on the Education Impact Council for 6 years.
Rondel has been in Austin for just over 2 years now and enjoys spending her non-work hours exploring local restaurants and hotspots and cuddling up on the couch binge watching a really good Netflix series.
Programming Vice Chair
Jace Balbach is a new addition to the non-profit scene. His previous profession was in health and wellness where he explored various modes of movement and philosophies ranging from Yoga and meditation to personal and group training as a fitness coach. Having earned his undergraduate degree in Communications and recently attaining his Master's in Public Health. Currently, he works as the Community Engagement Coordinator for the Central Texas Food Bank.
Born and raised in Boise, Idaho, Jace has been a frequent traveler since graduating high school where e explored various states ranging from Colorado, Utah, New Mexico, and Illinois. He finally has landed in Austin and has been here since 2019. From 2020-2022, Jace and his wife Shelby brought two kids into the world where he was a stay at home dad for the first year of life for his firstborn, Sage while pursuing his MPH. His second born, Tatum arrived in early December of 2021.
Being relatively new to the non-profit field, Jace approaches everything with inquisitiveness, patience, empathy, and an unquenchable drive to keep expanding his perspective.
One of Jace's favorite sayings is, "The more I learn, the more I realize there is so much I don't know" and that is incredibly exciting to him!