YNPN Austin Board & Council Structure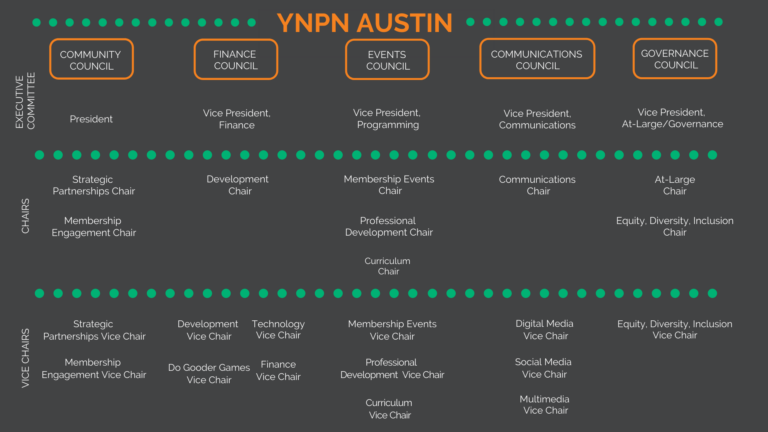 President
A Minnesotan native, Alyssa has 10 years experience volunteering and working in partnership with education nonprofits and school districts and has spent the last three years at Breakthrough Central Texas as a Program Coordinator advising first-generation college aspirants. Alyssa holds an undergraduate degree in Political Science from Loyola University Chicago and a Masters in Curriculum and Instruction from Texas A&M University.

In her free time, Alyssa enjoys taking Spanish lessons, spending time with her dogs: Miley Cyrus and Taylor Swift and crafting. She is excited to take a leadership role at YNPN Austin learning and use her skills of event planning to create dynamic programming for members.

Yajaira
Saldivar-Solis (she/her)
Vice President, Finance
Yajaira earned her bachelor's degree in English from Texas A&M University, where she discovered fundraising via grant writing. Yajaira began her nonprofit career as a Grants Coordinator at Caritas of Austin. Currently, she serves as the Grants and Financial Compliance Specialist at LifeWorks. In addition to YNPN Austin, Yajaira is an active member of Austin Tan Cerca de la Frontera's (Austin So Close to the Border) Fundraising Committee.

When she's not daydreaming about ending homelessness, Yajaira enjoys boxing, keeping up with her favorite comics, and watching football. Yajaira is excited to contribute to YNPN Austin's important work in our community!
Vice President, Programming
Jennifer currently serves as the Manager of Donor Relations for United Way for Greater Austin. She has spent her entire professional career working in the nonprofit sector in Austin and is excited to use her experience to help further the development of young nonprofit professionals in our community.
Jennifer has a Bachelor of Science in Anthropology from the University of Michigan, where she began her nonprofit work by serving on the board of University of Michigan's Habitat for Humanity Chapter and volunteering with 826Michigan.
A native of New Jersey, Jennifer has been in Austin for over 6 years now and enjoys spending her non-work hours exploring local trails and hotspots with her two rescue dogs, Darwin and Mara or cuddling up on the couch with her cat, Ellie.
Kent
Prickett, MBA (he/him)
Vice President, Communications
Through impeccable customer service, a wide breadth of knowledge, and hard work, Kent tackles every situation with thoughtfulness and ease. A go-getter with over a decade in the non-profit industry, Kent has a wide range of experience in communications, public relations, marketing, fundraising, accounting, governmental affairs, customer service, events, and committee management.
Kent is employed by the Texas Medical Association where he serves as the Executive Director for two Texas-based medical associations. Kent has a passion for helping people and has a dream of making a difference in the lives of the people he encounters. He is the recipient of the 2020 Association Forum's Forty Under 40 Award, is an ASAE NextGen Alumn, and holds an MBA from Concordia University - Texas.
When not working, Kent enjoys the water, watching movies, photography, reading, and most importantly spending quality time with his husband and their two teens (Zae & Micha) and their dogs, Squirrel & Moose.
Vice President, Governance
Before rooting herself in Austin, Lucy graduated with her Master's degree from The Bush School of Government & Public Service with a track in Nonprofit Management.
Lucy currently serves as the Program Manager at Austin Asian Community Health Initiative. She manages the Community Health Navigation program, which provides free health care and resource navigation for Asian and immigrant communities. She has been on the YNPN Austin board since 2017. She is the current President for Truc Viet and is a member of the Austin Global Shapers. She is a graduate of Leadership Austin Emerge Class of 2019.
A few things that bring Lucy joy and fulfillment are working with the API community, hanging out with her cat (and friends too), and planning her next big adventure.
Vice President, Community
Jye, an executive, facilitator, and coach, was raised in the 7th ward of New Orleans. His professional career began as a public school educator, serving as a teacher and administrator across multiple age ranges and content areas. In 2019, he earned his Masters of Science in Leadership and Change from St. Edward's University. Currently, Jye enjoys his path as an entrepreneur, providing leaders (and their teams) with best practices support and DEI strategy/ implementation support, partnering to solve complex problems, and various education initiatives. Cooking, biking, boxing, dancing, and engaging with music (listening and playing) are Jye's go-to feel-good hobbies.
Mackenzie
Davison (she/her)
Professional Development Chair
Mackenzie is a young professional originally from Maine. She has worked in several different capacities (nonprofit and for-profit) ranging from an organic farm in Maine to a foreign exchange liaison for a small French Exchange group.
She has always been drawn to the ideals of nonprofits and their missions and this has led her to work and volunteer with AmeriCorps, Amnesty International, the Telling Room, and more. Mackenzie attended Keene State College in New Hampshire where she studied Political Science and International Relations with a focus on Holocaust and Genocide studies. Along with her work in nonprofits, Mackenzie is a Zero Waste Block Leader with the City of Austin. In her spare time, she enjoys exercising, hiking with her boyfriend and dog, reading, and embroidery.
Communications Chair
After earning a masters of architecture, Joshua spent years helping small businesses grow. Having worn many hats, he's developed a deep understanding of design and marketing which he's excited to bring to the nonprofit sector and YNPN.
Joshua enjoys writing short novels as much as he does tax theory and is constantly reading three or four books at a time. In addition to his work experience, he brings passions for narratives, communication, and policy research to YNPN.

Development Chair
Erin is new to Austin, and she recently transferred from the Fairmont Hotel's property in Telluride, Colorado to Fairmont Austin, the new build hotel that debuted in March of 2018. Erin has long held a passion for the non-profit sector, having worked with the American Cancer Society has one of their Team Captains, with the Boys and Girls Club, Global Peace Youth Corps, the Seattle World School, etc.

After graduating from the University of Washington in June of 2016, Erin participated with one of AIESEC's programs in Morocco, a program established to develop young leaders through cross-cultural exposure, thereby fostering unique problem-solving skills. She then went on to teach English at a bilingual school just outside of Madrid, Spain. Having certified fluency in the Spanish language, she sought a sales and marketing internship at a tech start-up, called Celerative, just outside of Buenos Aires, Argentina. After a few short months and a full-time job offer from Celerative's founder, Erin reluctantly turned it down in order to volunteer on a vineyard in Chile in the wine country south of Santiago. In 2018, Erin returned home, much to the relief of her parents. All of this experience around the world has impressed the importance of technology as a tool in connecting people and in leveling inequality and is, therefore, one of Erin's top passions today!

With her past experience in Sales, and especially with Nordstrom as one of their sales representatives, Erin is so excited to contribute to YNPN's development as their Development Chair.

Blair
Adams (she/her/hers)
Strategic Partnership Chair
Blair Adams started her nonprofit career nearly a decade ago as a Peace Corps volunteer in the Dominican Republic, where she became fluent in Spanish. Since returning, Blair has worked with multiple youth-oriented organizations, including Court Appointed Special Advocates (CASA) of Travis County where she currently serves as Volunteer Recruitment Specialist. She holds a B.A. in Communications from Indiana University.
Blair moved to Texas in 2017 with her partner, an Austin native. They got married in late February of 2020 (just before the pandemic!) and currently live in Round Rock with their dog, Pita. Blair has been an active member of the Strategic Partnerships committee for several years and is excited to help it continue to thrive.
Sydeny
Wilburn (she/her/hers)
Member Events Chair
Sydney works at the RGK Center for Philanthropy and Community Service and is passionate about serving the Austin nonprofit community. She earned her undergraduate degree in Print Journalism from the University of North Texas and spent a year serving as an AmeriCorps VISTA with a civic education nonprofit in Austin before starting graduate school at the LBJ School of Public Affairs.
Raised just down I-35 in San Antonio (Helotes, more specifically), she was born in Kentucky and still loves to take trips back to the Bluegrass State to visit family. In her spare time, Sydney enjoys experiencing all of the food, activities, and outdoor fun Austin has to offer-- especially anywhere where she can meet some new dog friends. Sydney is excited to serve on the YNPN Austin board as membership events chair to bring engaging networking and learning opportunities to our members.

Membership Engagement Chair
Andy is a native Texan and has over 10 years of nonprofit experience. He currently works for the State of Texas Health and Human Services Commission as a Management Development Curriculum Developer where he brings a passion for life-long learning and improvement to the department's mission of helping Texans in need. After spending his twenties in Kansas City, MO and working for various nonprofits there, Andy returned to Texas in 2017 where he has worked in homeless services and completed a degree in Organizational Leadership Studies.

In his free time, Andy likes to read, play games, and go on outdoor adventures so you might find him playing board games at a local brewery, perusing the library, rock climbing at a bouldering gym, or getting muddy in obstacle course races
Dulari
Gandhi (she/her/hers)
Curriculum Chair
Dulari Gandhi has spent over a decade working in social impact, with particular passion for strategic planning and communications. Currently, she is a program officer for the Michael & Susan Dell Foundation focused on poverty alleviation in Central Texas and Boston. She is also the founder of D. Gandhi Communications, a strategic communications firm that helps nonprofit organizations and social impact entrepreneurs communicate clearly in a complicated world. Dulari's passion issues are civic engagement, civil rights, homelessness, and the environment.

EDI Chair
A nonprofit fundraiser and communicator, Jené has spent the last 10 years working in the nonprofit sector to create greater equity for BIPOC communities in her native Central Texas. Currently, she is a Marketing and Communications Manager at United Way for Greater Austin. Jené is a proud Texas Longhorn and holds a Bachelor's degree in Government from the University of Texas at Austin and a Master's degree in Mass Communication with a focus on strategic communication from Texas State University.
Jené is passionate about Orangetheory Fitness, drinking margaritas with friends, and Beyoncé. She currently serves on the strategic planning committee for AFP Austin and is looking forward to using her experience in change management to help lead YNPN's EDI efforts.
Chair At-Large
Shelby brings eight years of experience volunteering and working with community health projects and nonprofits. Currently, she is the Evaluation Specialist at It's Time Texas, a nonprofit that works to improve health for Texans statewide. She holds a Master of Public Health from the UTHealth School of Public Health in Austin and a Bachelor of Health Science in Health Sciences from the University of Missouri.

Between growing up in a military family and continuous travel in her adulthood, Shelby has moved cities, states, and countries more than ten times. In her free time, she loves to read, cook, and go for long walks her with mutt Sugar. She is excited to step into a leadership role in YNPN. She will use her data and evaluation skills to give the board better insights into strategic decision making to benefit all YNPN members.
Mia
Medina (she/her/hers)
Membership Events Vice Chair
Mia Medina is the Program Manager for No Kid Hungry Texas and focuses on statewide partnerships, grants, and supporting the child nutrition programs of Central Texas school districts and community organizations. Prior to working at No Kid Hungry Texas, Mia worked in the Medicaid Division of Texas Health and Human Services Commission where she worked with the Policy Council for Children and Families to suggest policy changes that could better the lives of families who have children with disabilities. She also has experience working with schools and school districts through her work at Partnership for 21st Century Learning, a nonprofit in Washington, DC that focused on highlighting best practices in whole child learning. Mia is originally from Big Spring, Texas and is a recent graduate of American University where she received her Master of Public Administration and Policy. She is also a proud alumnae of Texas Tech University where she received her Bachelor of Science in Human Development and Family Studies.
Professional Development Vice Chair
Elena joins the board with over 12 years of experience working and volunteering with non profit organizations in her hometown of Dallas, San Antonio, and for the past two years, Austin. Elena currently serves as a Program Evaluator for the Obesity Prevention Program at the Texas Department of State Health Services. Her passion is chronic disease prevention and health promotion for the community. She has served as a lead in developing and facilitating programs in non profit, university, and state government settings. Elena earned her Master of Science in Health and Kinesiology from the University of Texas at San Antonio. On the weekends she enjoys road trips to small Texas towns, baking, and taking her dog, Lucy, to all the open outdoor spaces to expend that Great Dane/Lab energy.
Curriculum Vice Chair
Kate serves as Project Manager within the Project Management and Improvement Office (PMIO) at the Texas Higher Education Coordinating Board (THECB).
Prior to her current role, she worked as Project Manager on the Rebuild Texas Fund (RTF), a Hurricane Harvey focused philanthropic fund at the Michael & Susan Dell Foundation. Her time with RTF was truly an amazing opportunity to support recovery in her hometown of Houston and along the Texas coast.
Kate has a background in grant management, international education, and database management. She loves to travel and spend time with her family. Highlights to a week include a trip to a park with her kids, reading a good book, and watching GBBO with her husband.
Digital Media Vice Chair
Alex, a Rockford, Illinois, native and Austinite as of September 2015, is a Team Lead in the Community Content department at Gannett, where he helps manage a team of journalists specializing in local, community-oriented news for papers all over the country. He has a Bachelor of Arts in English from Northern Illinois University.
Alex has worked in various fields prior to journalism, including sales, education and a stint in a tuxedo rental shop. In his free time, he loves video games, karaoke, sand volleyball, tennis, board games, watching football and taking naps.
Social Media Vice Chair
Benjamin is a Communications and Marketing Assistant for the Austin Independent School District, where he helps 15 campuses, mostly in the Eastern Crescent, with brand awareness and digital and print marketing. He earned a B.A. in Journalism from Indiana University in his hometown of Bloomington, Indiana.
Benjamin enjoys movies, sports and everything outdoors. He hopes to one day visit every National Park. In the meantime, you can catch him hiking local trails with his trusty sidekicks Darwin and Mara, or cuddling up on the couch watching indie films with his cat Ellie.
Multimedia Vice Chair
Lily Bouvier is a video editor, filmmaker, and multimedia marketing professional based in Austin, Texas, and originally from Cambridge, Massachusetts. She works as a Program Coordinator with the Prosper Tax Help program at Foundation Communities, which offers free tax preparation services to people across the Austin community.
During her free time, she enjoys reading, biking, and going for long walks around Austin with her mini Dachshund, Hermione.
Development Vice Chair
Nicole was born and raised in the Mississippi Delta and received her undergraduate degree in Sociology from the University of Mississippi. Over time, she developed a passion for adult education, which brought her to Austin, where she taught Adult ESL classes as a Texas Family Literacy Americorps member from 2015-2016. She currently works as a Career Pathways Coordinator for the Adult Education Division at Austin Community College, where she helps coordinate two programs geared toward supporting adult learners through college courses. Nicole is also a member of the Young Women's Alliance, serves as the School Liaison Chair of the Austin Branch of the Education First scholarship program, and is a graduate of Austin CityWorks Academy, AISD Upclose, I Live Here I Give Here's Austin Board Involved Internship and The New Philanthropists' Board Mentors of Color. In her spare time, she enjoys salsa dancing, trying new restaurants, exploring the Austin social scene, and taking care of her plant babies.
DGG Vice Chair
A Louisiana native, Megan fell in love with non-profits as a teenager. Throughout high school and college, she volunteered at animal shelters all throughout Louisiana. After earning a Bachelors in Marketing from Louisiana Tech University, she moved to Austin in 2018 with big dreams of driving change in the community.
Megan currently works for a for-profit company specializing in Revenue Operations. She is excited to bring the skills that she has learned throughout her professional career to the YNPN Board.
When Megan is not daydreaming about starting various non-profits; you can find her spending time with her family, friends, and her mini-dachshund, Polly.

Technology Vice Chair
Laurie Miller works for Blackbaud as a Manager in Professional Services. Laurie's work is surrounded by assisting non-profits in their implementation and ongoing success with Blackbaud software. Laurie was born and raised in Austin, Texas, and has worked for and volunteered for many local non-profits. She holds a Bachelor of Science degree within Mathematics from Marquette University. In her free time, she loves exploring the outdoors with her husband, Charles, and two daughters, Lillian and Olivia.
Michelle
Hutson-Crawford (she/her)
Strategic Partnerships Vice Chair
Michelle began her work in the nonprofit sector nearly 10 years ago as an educator for a local Head Start program in her hometown of Biloxi, MS. Her passion for early childhood education, child & family advocacy and mentoring educators advanced her over the years to the position of Assistant Program Director. In the summer of 2019, she said farewell to her beloved program and set sail to Austin, TX to serve as a Program Manager for United Way for Greater Austin. Recently promoted, she now serves as the K-12 Director of Education for the organization. Michelle holds a Master of Science in Child and Family Studies from the University of Southern Mississippi and is a proud former member of The Grambling State University World Famed Tiger Marching Band.
Michelle is an active member of Junior League of Austin and serves on the Campus Advisory Council for Uphaus Early Childhood Center as a Citizen Elect. In her free time, she enjoys gardening and spending time with her wife, Rasheeda, and their dog child Marley.
Selena
Montelongo (she/her)
Membership Engagement Vice Chair
Selena currently works for Communities in Schools of Central Texas as their AmeriCorps Member Experience Specialist, where she ensures Members are supported and equipped with the resources they need to be successful in their term of service. She received her Bachelor's degree in Psychology from Saint Louis University, and her Master's in Community and Social Change from University of Miami. Selena also pursued Peace Corps through the Master's International Program, where she served in the Youth Development Program in Peru. She is a proud Chicagoan and recently relocated to Austin, Texas. She is a non-profit professional with over 6 years of experience, who is deeply passionate about creating access to essential resources and developmental opportunities for under-resourced communities. In her free time Selena enjoys traveling, reading, crafting, and being a foodie.
EDI Vice Chair
Jasmine Walia is the Program Coordinator for the Center for Nonprofits & Philanthropy at the Bush School of Government & Public Service. Jasmine has spent her entire professional career in the nonprofit sector, with experiences ranging from serving local youth at the Boys & Girls Clubs of the Brazos Valley to working on the first US advocacy campaign with Habitat for Humanity's Government Relations and Advocacy Office. Prior to her role at the Center, she worked with Foundation Communities in Austin, where she assisted with the development of a nationally recognized credit-building program for low-to-moderate-income community members. Jasmine earned her Master of Public Service and Administration with an emphasis in Nonprofit Management at the Bush School of Government & Public Service and her bachelor's degree in communication and sociology at Texas A&M University.
Jasmine previously served on the YNPN Austin board as the Professional Development Vice-Chair in 2020. She is excited to return to the board to promote a more equitable, diverse, and inclusive environment for those involved in YNPN Austin and Central Texas nonprofits.